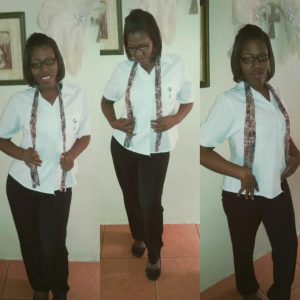 We learned about Kayla Manning from her mother and sister. Kayla was an intelligent, loving and active 23 year old woman who was on the Autism Spectrum. She had a photographic memory and was a nugget of information. She did food preparation and data entry at YTEPP and was very close to her loving mother, Lorna.
On January 3rd, 2019 we were contacted by Kayla's sister, Khalifar, seeking information and assistance. She told us that Kayla was warded in the hospital with a complicated case of lupus with kidney failure after having gotten dengue. We tried to assist the family in the best way we could.
On January 10th, we were informed that Kayla passed away. We were heartbroken by the news.
On January 18th, Kayla's funeral took place. Her family took up a collection during the funeral and donated the proceedings to APATT.
We are honoured to receive this donation that we will use to purchase more tablets that can help children with Autism to communicate. This donation is very special to us and we hope those who receive these tablets can remember where it comes from and can keep Kayla's family in their thoughts and prayers.
We would like to publicly thank Mr. Jonathan Bhagan for his help and assistance with much needed information.
We also would like to thank and acknowledge the Attorney General, Mr. Faris Al-Rawi for helping Kayla in her time of need. He was very gracious when we contacted him and more than willing to assist.  He made a few phone calls and the family was contacted almost immediately.
A big thank you to Kayla for being an example of courage, determination and love.
Rest in peace.